The last of the New Deal Civilian Conservation Corps (CCC) artists, Frank (Francesco) Cassara, born March 13, 1913 in Partinico, Sicily died January 13, 2017, in Ann Arbor, Michigan – two months shy of his 104th birthday.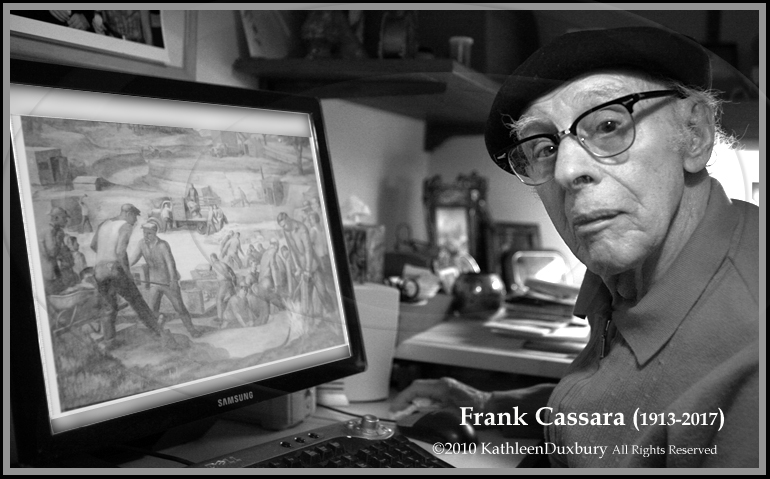 In the fall of 2010, Frank Cassara and his daughter, Francisca, graciously welcomed me into his Michigan home and studio. While giving me directions they voiced concerns with traffic I might encounter en-route; a football game was scheduled at the University of Michigan. If there was traffic I never noticed, but do recall the Spartans were not the only winners that weekend.
Frank was then 97 years old, in a wheelchair, soft spoken and was quietly reflective as I questioned him about his time and special circumstances as an Artist/Enrollee with the Civilian Conservation Corps (CCC) in Illinois during the Great Depression years.
Initially we sat in the living room of his home. Frank watched as I arranged my papers, camera equipment and hooked up the audio recorder all while explaining the who and whys of our New Deal research, extensive travels and how we search for CCC art, artists and stories.
Frank apologized for what he believed would be unproductive time and wasted travel for me; explaining it had been years (authors note – 75+ years) since his assignment to a CCC camp and he really couldn't remember much.
Truthfully, I didn't know what to expect as I handed Frank copies of CCC camp photographs and letters. The documents were dated 1934 – 1935, years when Frank was 21 years of age, living in Detroit, Michigan and desperate for work. He was writing or approaching anyone or any agency he thought might be of assistance, repeatedly.
Continue reading "Frank Cassara – Last of the New Deal CCC artists"