It didn't take long for Sears Roebuck and Co. to recognize the business potential of a young CCC enrollee who possessed, possibly for the first time,  $5 – $8 in cash each month. Money they were free to spend whenever and however they chose, especially if they had access to a Sears catalog.
Used wisely during those Great Depression years, these hard earned dollars had exciting purchasing powers. Thousands of would-be customers were isolated deep within the nations parks and forests, a group Sears recognized as:
"the finest thing in America . . . as fine American manhood as the world has ever seen is being made, right now, in the Civilian Conservation Corps."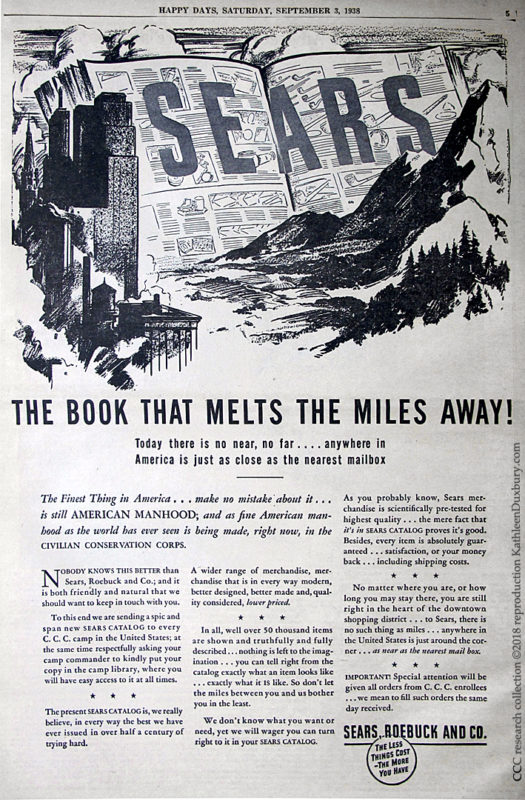 Revolutionary Idea – Same Day Processing
Capitalizing on their ability to move products quickly a special offer was made for those in the CCC . . . "we mean to fill such orders the same day they are received"!   This was a revolutionary concept prior to the days of Amazon Prime,  same day, and overnight shipments or the seemingly impossible reality of immediate delivery by an unmanned aerial vehicle, a Drone .
Sears catalogs were shipped to CCC camps just prior to the 1938 holiday season. In December 1938, there were 1500 CCC camps with more than a quarter million enrollees. Assurances were given that there was no near or far… anywhere in America was as near as the nearest post office. The idea of a speedy delivery was further reinforced by the cover image of the Chicago 1938 – 1939 Fall and Winter catalog. 
Something For Every Enrollee
The Sears catalog brought the downtown shopping experience directly into the CCC camps.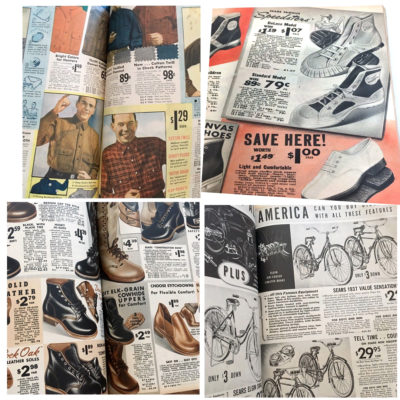 For the CCC athlete there were the "Deluxe Model Speedsters"(high top sneakers), which came in three colors – grey, brown or black, and were marked down to an affordable $1.07. Or, for the budget minded, the "Standard Model" was listed for only 79 cents. Although a bicycle may not have been practical in the forests or the camps the highly desirable all leather, Hi-Cut field boots, with comfortable innersoles, for $4.39 were featured.
The Sears catalog of 1938 had thousands of enticing items, something for every enrollee, whether they required it or not.
It was wagered all they need do was visit their camp library to flip through the pages
" of your Sears catalog. . .the book that melts the miles away. . . no matter where you are, or how long you may stay there, you are still right in the heart of the downtown shopping district… to Sears there is no such thing as miles…anywhere in the United States is just around the corner…as near at the nearest mail box."
For CCC enrollee Bill F. Fowler, fresh out of ninth grade in Durham, N.C., that meant jelly beans.  "About the best thing I can remember was ordering $5 worth of jelly beans from Sears & Roebuck," said Fowler, who was sent first to a camp in Old Fort, east of Asheville in the mountains. "It was enough to fill up a footlocker and still have some left over."… (2)
Products Benefiting Employment
CCC Educational advisors in Louisiana found the "Tools" section of the Sears catalog especially useful.
"Advisors had to be creative in meeting educational needs. Many enrollees felt that learning welding would be as asset in finding jobs when leaving the CCC. With limited funding for educational supplies, a number of educational advisors purchased welding equipment from Sears Roebuck with the workers agreeing to pay a small assessment and the advisor scraping together additional funds for its purchase. Instruction came from the user agency or the local community. A few years later, many of those trained found good jobs in various defense industries." (3)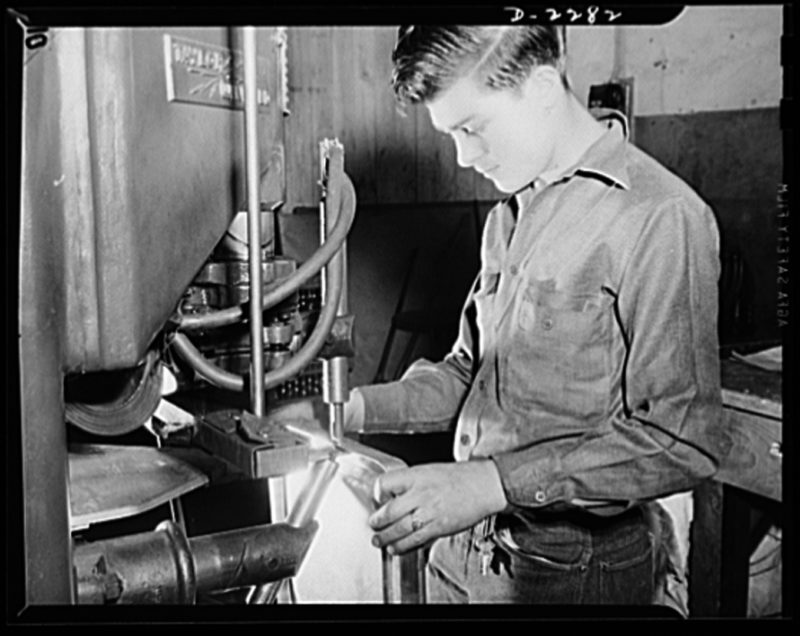 End of a Retail Giant
For 132 years, Sears Roebuck seemed to be the retail giant that would sell anything and everything. The prices seemed fair and reasonable, visiting a Sears store was a memorable destination experience. The catalog provided a vital retail alternative for those in remote or segregated areas.  Shipments, at first, were to the nearest post office, or to a local Sears store. Eventually home delivery became available. It was convenient and easy, drastically changing how Americans shopped and lived.  If you owned stock in the publicly traded company you could retire easily.
Ironically, this description fits corporations like Amazon, Walmart, Home Depot and Target who are partly responsible for the demise of stores like Sears.
Sears Roebuck and Co., later known as Sears Holdings Corporation,  was once the cornerstone of American retailing and for a short period, 1938-1942, brought a taste of home to the CCC camps. The beloved "Wishbook"  has earned its place in the collections of Americana.
Sears, the struggling retail leader, mired in debt and abandoned by shoppers filed for bankruptcy protection on Monday, October 15, 2018.
———————————————–
(1) George G. Duxbury CCC collection, Image 02-048, © Kathleen Duxbury, www.kathleenduxbury.com

(2) Bill Fowler - In 1985, former N&O writer Melanie Sill visited with some CCC veterans and shared their memories. https://www.newsobserver.com/living/liv-columns-blogs/past-times/article10326905.html

(3) The Work of the Civilian Conservation Corps, Pioneering conservation in Louisiana,  James P. Barnett and Anna C. Burns, US Department of Agriculture May 2012, ,Page 90;   Humphrey, Hubert. 1965. "In a Sense Experimental: The Civilian Conservation Corps in Louisiana (Part II)." Louisiana Historical Association, Vol. 6, no. 1, pp. 27-51

(4) United States Office For Emergency Management, Hollem, Howard R, photographer. Bantam, Connecticut. One of the new processes brought into the Warren McArthur plant to speed up work in the filling of defense orders is this electric welder. It's being operated by William Choly, nineteen, who learned welding while in the CCC Civilian Conservation Corps and NYA National Youth Administration. He came here from Nesquehoning, Pennsylvania. Bantam Bantam. Connecticut Litchfield County United States, 1942. Jan. Photograph. https://www.loc.gov/item/2017690161/

Maranzani, Barbara, "The Mother of All Catalogs Ceases Publication",  https://www.history.com/news/the-mother-of-all-catalogs-ceases-publication-10-years-ago