"CCC ART – Artists of the Civilian Conservation Corps – Marshall Davis"
Marshall Davis was a young, untried and struggling artist caught up in a dramatic and timely turn of events. It was the Great Depression, his only option for a job was to enroll in the Civilian Conservation Corps (CCC) as a laborer.  Davis wisely brought along his sketchpad and pencils and embarked on a artistic journey that would change his life and our understanding of the three C's.  Through the discovery of his masterful and whimsical illustrations, letters and records we are provided with a true visual of the real CCC. The CCC was the first and most successful of the New Deal work programs; a massive movement that is recognized as the greatest conservation effort in US history.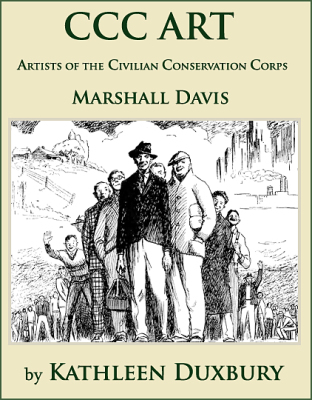 Available direct from the author Kathleen Duxbury at www.kathleenduxbury.com; at the New Deal Store   
FDR Presidential Library bookstore, Hyde Park, New York and online
 Amazon
 "I have a pile of picture material – and thanks to those managing the Art Project and Mr. Hoyt of Happy Days – the time is drawing near when I will have nothing to do but sleep – eat – and draw . . . I assure you I will do my best with every opportunity."   (Clarence) Marshall Davis
One can easily sense the excitement felt by junior Civilian Conservation Corps (CCC) enrollee Marshall Davis on March 24, 1934 as he put pen to paper and wrote those words to Edward Rowan in the Treasury Department  Washington, D.C.  Marshall Davis was about to join the first of the government art programs, the Public Works of Art Project (PWAP).
his assignment was to make a pictorial record of the CCC, a program his knew well.